Welcome to Alfred A Malnick & Co.
We are an established ACCA firm of Chartered Certified Accountants, based in south-west London
We have over 50 years experience in providing accounting, tax and other financial services to our esteemed clients, ensuring the highest quality and standards.
We pride ourselves on being a friendly and helpful firm, who are always willing to go the extra mile to help our clients to meet their goals and objectives. Read more about us…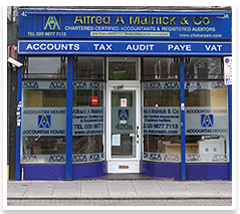 Alfred A Malnick & Co is the trading name of AM & BEN C LIMITED; Company No. 06501669; Registered in England & Wales.
ACCOUNTS

 We will look after you

Our aim is to ensure we fully understand your business so that we are able to give relevant advice and recommendations that can assist you in realising your long-term business goals, as well as monitoring the progress of the business in the short term.
PAYROLL
With the introduction of Real Time Information (RTI) by Revenue, payroll may feel like more of an administrative burden, taking away precious time from running your business. Read more
BOOKKEEPING
Bookkeeping is the backbone of accounting as it provides the necessary data to prepare accounts and calculate resulting tax liabilities, which essentially makes it a fundamental function of any business. Read more
HMRC Investigations
The theme comes equipped with genuine style elements, visual short-codes, exclusive sidebar widget areas, built in portfolio and blog templates, and rich page/post option panels.
Business Start-up and Advice
The theme comes with step by step guide to installation and configuration. Dummy content is available in form of text format and separate xml data for pages, posts and all data.
More Services
VAT
VAT was first established as being a "simple tax", however, it now has many different schemes, each with their own rules on calculations, and on what can and cannot be included.
Personal Taxation
Self assessment becomes necessary once an individual falls under the requirement to file by Inland Revenue. There can be severe penalties for the failure to submit a tax return, for late submissions, or incorrect returns.
Company Taxation
We deal with all corporation tax matters, including:
Preparing corporation tax computations
Preparation of corporation tax returns
Request a Call-back
[contact-form-7 404 "Not Found"]